We elaborate wholesome traffic system arrangements of urban environments, regions and inter-regional traffic connections. We also plan and design business and logistics centers and place them in physical space.
Good accessibility to key services along with minimum negative impacts of motorized traffic on society and environment as well as interaction with spatial and socio-economic factors are main guidelines when planning and arranging traffic systems.
INTER-REGIONAL TRAFFIC CONNECTIONS
When planning a new long distance transport link that will bring many development synergies to the area, the new transport corridor is chosen based on minimum measured impacts on the environment, people, economy and space.
TRAFFIC SYSTEM ARRANGEMENTS OF URBAN ENVIRONMENTS
Integrated traffic system arrangements of urban environments include:
planning of traffic network,
designing stationary traffic and parking policy,
traffic town center planning.
Suggested policies and traffic planning measures consider existing urban design plans and future development plans.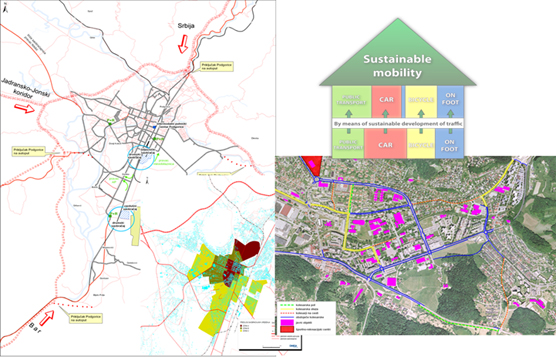 PUBLIC PASSENGER TRANSPORT (PPT)
We plan and design PPT for cities and wider city regions in order to achieve a PPT network that is designed to fit the demand and needs of passengers. This includes:
plan of lines,
plan of stops and park & ride stops,
multimodal transport terminals,
organisational structure for managing the PPT,
tariff and payment system and
integration of various transport modalities.
BUSINESS AND LOGISTICS CENTRES
By designing and planning business and logistics centers with traffic and spatial organization and arrangements we contribute to the development of competitiveness of local and national business environment.